My car's been ill for a while now but I continue to use it, and abuse it.
Its radio is also broken. But whenever I'm behind the wheel there are songs playing in my head. Not necessarily songs I like.
Yesterday it was George Wassouf's Elhawa Sultan, before that it was Hot Chocolate's You Sexy Thing, Hussein Jassim's Halaft Omri (Ghbaar, you say?), Jimmy Eat World's The Middle.. And I have a feeling today it will be The Fiery Furnaces' annoying Here Comes The Summer.
What's a car without a radio.. really?!
حضرت تجمع أهالي الدائرة العاشرة في العديلية البارحة، ولكن الكسل منعني من التقاط صور عليها القيمة كما طلب مني أحد أبنائنا في الخارج.
رسالة التجمع والمتحدثين كانت واضحة ضد الفساد والمفسدين، ولعلها تصل إلى نواب البيع والشراء ومن ورائهم، وكذلك إلى أكبر عدد من ناخبي وناخبات الدائرة
.


لم يبقى الكثير على يوم التصويت، وبينما أجلس هنا في غرفتي وراء الشاشة لأتحلطم وأنظر، أعرف أن الكثيرين يمارسون أدوارا أهم في العمل في حملات المرشحين الإصلاحيين، متحملين حرارة الجو، وثقل دم بعض العاملين معهم، ورذالة الجمهور، وبلاغة شف الحضور، وانتقادات المعارضين، وطنازة اللي ما عندهم شغل.. فإليهم كل الشكر والمحبة. وأخص بالذكر العاملات في الحملات الانتخابية لأنها لأغلبهن التجربة الأولى، ولأنني متحيزة للبنات البنات.. ألطف الكائنات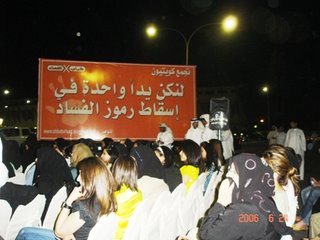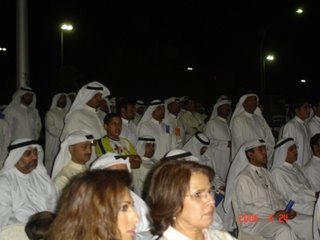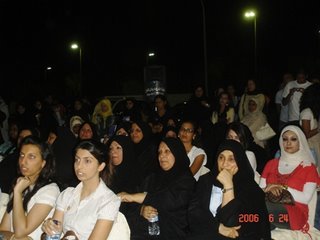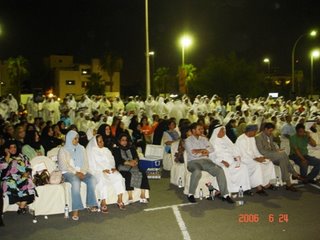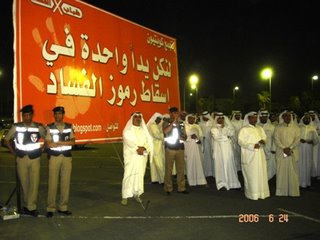 Dear bloggers, for not replying to your very kind comments on my previous post, please accept my apology.. Your words left me speechless.
:ويدعوكم مرشح الدائرة الثانية عبد الله النيباري لحضور ندوة جماهيرية يتحدث فيها كل من
د. عبد العزيز السلطان - لولوة الملا - جاسم القامس
خالد الهلال - عبد الله النيباري
وذلك في تمام التاسعة من مساء اليوم
في ضاحية عبد الله السالم، قطعة 4، شارع سيد علي سليمان
.
الدعوة وصلتني زرقاء، حبيتها تكون برتقالية.. لأن كيفي
وليعذرني باسل الراشد على عدم حضور ندوته المقامة الليلة، لأني أحب لولوة وجاسم وايد.. وأيضا لأن كيفي
.
A revelation dedicated to Walladah: A car without a radio is like some of our electoral districts. You end up listening (voting?) to performers you can't stand. George Wassouf mathalan.