I have a secret admirer!
My secret admirer doesn't send me flowers or chocolates (flowers and chocolates are so passé anyways), he (and I'm assuming it's a he) gets me tapes with religious messages. Tapes on Fasting, Hijab, Hajj.. You name it.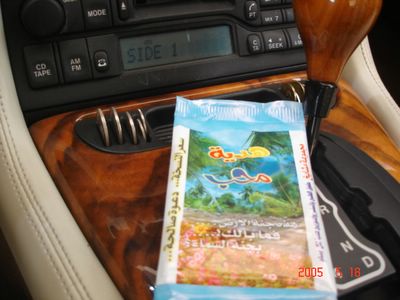 And I found this tape هدية محب on my car a few days ago. It came in a not-so-attractive plastic package. This one is on prayer (Salat). So, I've been listening to it on my way to work and back for the last couple of days.
I thought I'd share some of its content with you guys:

.
البعض من الناس يصلون.. ولكن في بيوتهم، أولادهم وأخوانهم لا يعرفون المساجد، ولا ينكرون عليهم، بل يتركونهم في البيوت.. يؤاكلونهم ويشاربونهم ويجالسونهم وهم لا يصلون..ومعروف لدى الجمع أن الذي لا يصلي كافر.. كاااافر..كااافر


.


يلزم بكفر الإنسان تارك الصلاة أحكام شرعية. أولا يستتاب ثلاثة أيام، فإن تاب وإلا قُتل.. وقتله ردة، ما هو حد
تارك الصلاة يقتل ردة لأنه كافر، فلا يغسل ولا يكفن ولا يصلى عليه ولا يدفن في مدافن المسلمين. امرأته تحرم عليه.. دون طلاق.. لأن الطلاق بين المسلمين، وهو كاااافر


.


تارك الصلاة ليس له قبلة، فماذا نصنع به؟ طيب ماذا نصنع به؟
قالوا يربط كما تربط الدابة. إذا مات حمار في القرية يكفنونه ويصلونه؟ والله إن تارك الصلاة ألعن من الحمار.. والله إنه يوم القيامة يتمنى أنه حمار


.


والله ده أبو حنيفة قال ان الوحدة لو جالها المخاض وحتولد وأذن الفرض عليها ولم تلد، عليها أن تقوم فتدرك الصلاة
.
لو كان يجوز لأحد أن يترك الصلاة لانشغاله لكان أولى الناس بذلك المجاهد.. ومع ذلك، حان الجهاد أُمِر بالصلاة.. أن نص الجيش يوقف يحارب، والنص الثاني يصلي

.
وآنا أقول شلون ضاعت فلسطييين
.
Thank you for the tapes, whoever you are.
Maybe next time you'll introduce yourself?
Maybe you'll ask me out for dinner and a movie?
Love is in the air..

Have a nice weekend, everyone :)